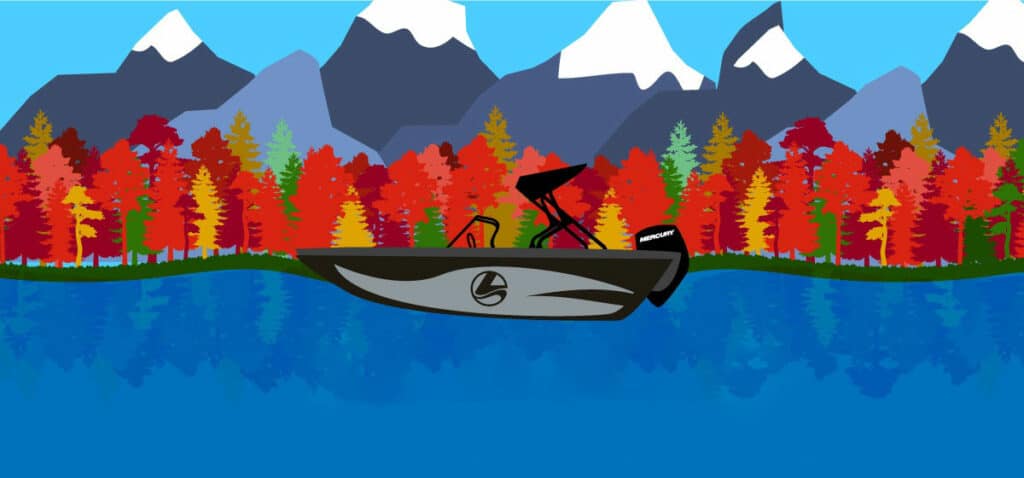 Autumn is a great time to get out on the water and plan a fishing trip. Some of the largest catches of the year will be during the period when the leaves change colour and the water begins to cool. Many species are on the move feeding and fattening up for winter. While the boating and fishing season has not yet come to an end, there are a few extra measures in boat safety that should be taken to make the most of this beautiful season.
Watch the Weather
This time of the year the weather can change quickly. Dress appropriately and be prepared to expect the unexpected. Be sure to check the weather forecast before heading out. The mix between warm and cold air can quickly spawn high winds and waves making it difficult for small boats.
Clothing
Consider investing in hand and foot warmers. Some brands are long-lasting air-activated warmers that can provide hours of heats. Just place them in your gloves and shoes to keep you nice and warm. When considering your clothing options, avoid cotton. Wet cotton will freeze right away. Wear layers and consider synthetic fabrics or wool. It is also good practice to bring spare clothing in a watertight bag.
Fog
Be aware of fog and the limited visibility it brings with it. Should boaters find themselves in a fog bank, they should proceed slowly and sound their horn at regular intervals to alert other boaters of their presence.
Life Jackets
An approved life jacket, either inflatable or inherently buoyant, is an essential part of a boater's wardrobe to keep them afloat. Make sure you have a life jacket for each person on board your boat. Falling into cold water is dangerous so make sure all life jackets are being worn at all times. And it is important to wear your life jacket over your coat.
Float Plans
Autumn tends to see fewer boaters on the water. As a result there are fewer people to offer assistance if needed. Provide your trip plans to a person so that your plans are known in case of an emergency. Known as a float plan, it highlights the most important information about your travel plans, dates, times, where you intend to be boating, your expected route and when you will be back. The person you have left this information to has the responsibility to notify authorities if you do not return according to your float plan so search and rescue can begin. If your plans change on-route, update your contact person on your new plan. It is also important on return from your trip to contact the responsible person to share that you have safely returned. A marine radio or cell phone will allow them to call for assistance should the need arise.
Tools and Fuel
Having a few tools and spare parts aboard will also allow them to fix minor problems that might otherwise cause them to be stranded out on the water. If the boat has portable fuel tanks, it's a good idea to have a spare on board as a reserve. Remember, for fuel, 1/3rd out, 1/3rd back and 1/3rd reserve.
Reduced Water Levels
It is important to be aware of reduced water levels during Autumn. Some of your favourite shallow water fishing spots may not be accessible at this time of the year. Also, while underway, keep a sharp lookout for debris or chunks of ice that damage your boat's hull at speed.
Water and High Energy Food
Having water and non-perishable snacks on board will help maintain proper nourishment and hydration. This is especially important if you encounter any minor breakdown which may delay your return.
Be Safe, Have Fun
Following these few steps will ensure a safe and incredible Autumn boating experience.
Calculator Icon Vectors by Vecteezy