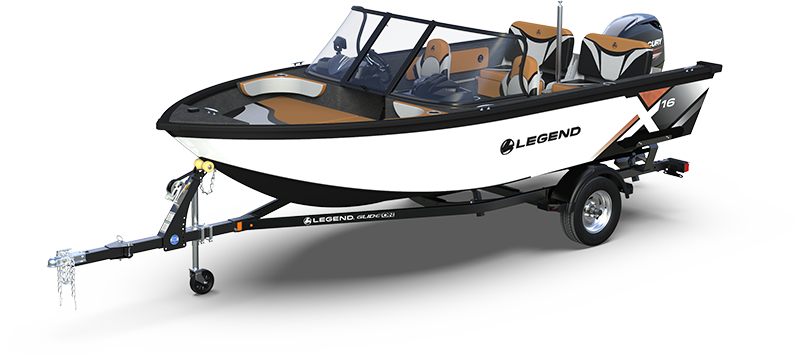 With Mercury 60 ELPT 4-Stroke and Glide-on Trailer
*Ontario and Quebec All-In Pricing. Click here for national pricing details.
Plus

+

, get the

Preferred Equipment Package:

$8,445

value

Free!

(Scroll down for complete Preferred Package Details.)
Now you can make everyone happy.
You have young kids and absolutely need a true do-everything boat. You love to fish with your buddies, but family always comes first. The X16 is so flexible that it transforms from a family friendly cruising boat with bow cushions and rear bench seating to a hard core fishing machine with a large livewell, huge front and rear decks and full stand up top (just in case it rains and your so called hard core fishing friends cannot handle it). It's like getting two boats for the price of one.
Specifications
Beam

82"

Hull Depth

37"

Inside Depth

25"

Aluminum Thickness

0.100

Maximum Horsepower

90

Maximum Capacity

1393 lbs

Bottom Width

69"

Length

16'6"

Package Length

18'4"

Package Width

82"

Towing Weight

2190 lbs

Fuel Capacity

42 L (11 US gal)
Download the Spec Sheet
Preferred Equipment Package
These features are typically optional on most comparable models, but come standard* on the X16.
Total value:
$8,445

You Pay: $0

*No substitutions or exclusions.
Choose Your Power
Motor models may not be exactly as shown.

Per Week

Boat price with selected motor upgrade
Motor Upgrades Speed Chart
Motor Upgrades Speed Chart - Legend
Zero to 26 miles per hour

Fish or Cruise

26 miles per hour and above

Tube

31 miles per hour and above

Ski
What Legends are made of
A look into the construction of our All-Welded Series.
All-Welded Series Construction
Intelliflex Hull Construction

Flexes and adapts to the water by dissipating energy from waves evenly throughout the hull, eliminating any chance of problem areas developing over time.

Exclusive Comfort Ride Deep-V hull

Provides a dry, smooth and comfortable ride each and every time in all conditions provided by our sharply angled bow, deep V and reverse chines.

Interlocking Bow Ribs

Overlap the front torsion system, eliminating a common weak point on most other aluminum boats.

Solid Locking Extrusions

Hold each thick hull piece into a solid center for unmatched durability. The center extrusion is over one inch thick providing an extremely solid 1,054 gauge impact zone. This means over 5 times the protection of double plated hulls.

Reverse Angled Chines

Are bottom side edges that angle downward to create lift in the back for faster planing and increased stability.

Torsion Beam Energy Transfer System

Provides your boat with necessary flexing, while remaining light and strong.

2-Piece Hull with No Side Seams

Eliminates a common weak area that causes side seam leaking on other welded boats.

Thick Lifetime Decking

With a Lifetime Warranty against rotting or warping and delamination. A thicker floor with 7 individually treated layers means a stronger boat.

Injected Level Floatation

Not only will every Legend float even when filled with water, the injected foam creates a solid sub-floor bond that strengthens the boat and provides a silky smooth and quiet ride. Foam is injected halfway up the side-wall for extreme strength. Knock on it and see!
All-Welded Models Warranty
All-Welded Series Leakproof For Life Warranty

Every Legend All-Welded model carries our exciting and industry-leading Leakproof for Life Warranty. It is remarkably simple. It covers the entire structure of the hull against leaks through the hull for as long as you own the boat. In fact it's the kind of warranty you won't find on any other aluminum boat. Plus it is transferable, giving the second owner up to 10 years of protection.*

3-Year Mercury Warranty

Every Mercury 4-Stroke outboard is backed by a 3-year standard limited warranty to give you peace of mind. Ask us about Mercury Product Protection to extend your Mercury Factory Warranty for up to 8 years.*

Legend Glide-On 5+1 Year Trailer Warranty

Every Legend Glide-On trailer by Shoreland'r is backed by a 5 year frame warranty and 1-year complete tongue to tail light warranty.*

Lifetime Floor Warranty

A thicker floor means a stronger boat. With 7 layers, of marine grade plywood, each individually-treated, we can offer a lifetime warranty against rotting.*

Legend ProTech 5+1 Year Canvas Warranty

Legend ProTech All-Synthetic Tear and Mildew- Resistant Material is backed by a 5 Year Warranty and guaranteed not to rot or fade for five years. Stitching, zippers, seams and other top components are covered for 1 year.*

6-Year WOWranty

Sure we've always had the industry's best warranties on the structural parts of our boats, like the welds, main riveted seams, pontoon tubes, decks and transoms, but what about everything else in your boat? Well, most companies offer a 1 year warranty on the other stuff and some offer up to three years. Although this is very respectable, we figured we'd double that. Legend's 6 Year WOWranty covers most other components for 6 long years. That gives you a lot of worry-free, quality, memory-makin' time.
Great Boats
Come to Those Who Wait.

Order today. Priority 2022 delivery.
Up to $2000 price savings Priority 2022 delivery

+

Free 5-Year Warranty

+

Plus Swag Bag
Get started on your 2022 X16 pre-order now!