Boat Cover Types, Explained: From Bimini Tops to Full Enclosures
There are many types of boat covers. When it comes to protecting the investment you've made in your boat, few things will get you as big of a bang for your buck as selecting the right cover for your boat.
At Legend Boats, we carefully fit our boat covers to every boat for a snug fit. For select models, we even sell them online, pre-fit for your exact model.
Bow-to-Stern Cover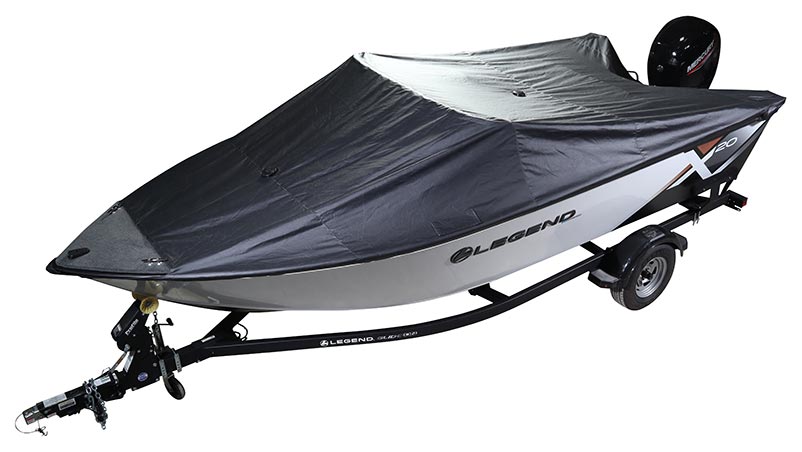 Bow-to-Stern Cover, protecting a brand-new X20.
Of all the possible types of boat covers you could use on your own, the most important is the bow-to-stern cover. These covers protect the entirety of your boat and are meant to be used in storage or travel.
Some prefer to purchase a one-size-fits-all cover. They're less expensive and easier to drape around around boat. You can buy them just about anywhere. But we don't recommend them and we only sell fitted, travel-ready bow-to-stern covers.
What's the difference?
A travel-ready bow-to-stern cover is one that is fitted closely to your boat, allowing for as little give as possible. It's taught.
This is important when you're driving down the highway at 100km per hour. If your boat cover is loose, you'll find it very quickly becomes a parachute. Not only is this hard on fuel efficiency, it can be dangerous. It can cause a cover to fly off the boat and into traffic, as well as make it more difficult to steer.
That's why we only sell travel-worthy bow-to-stern covers. They provide better protection of your investment, and they're safer on the road.
Bimini Tops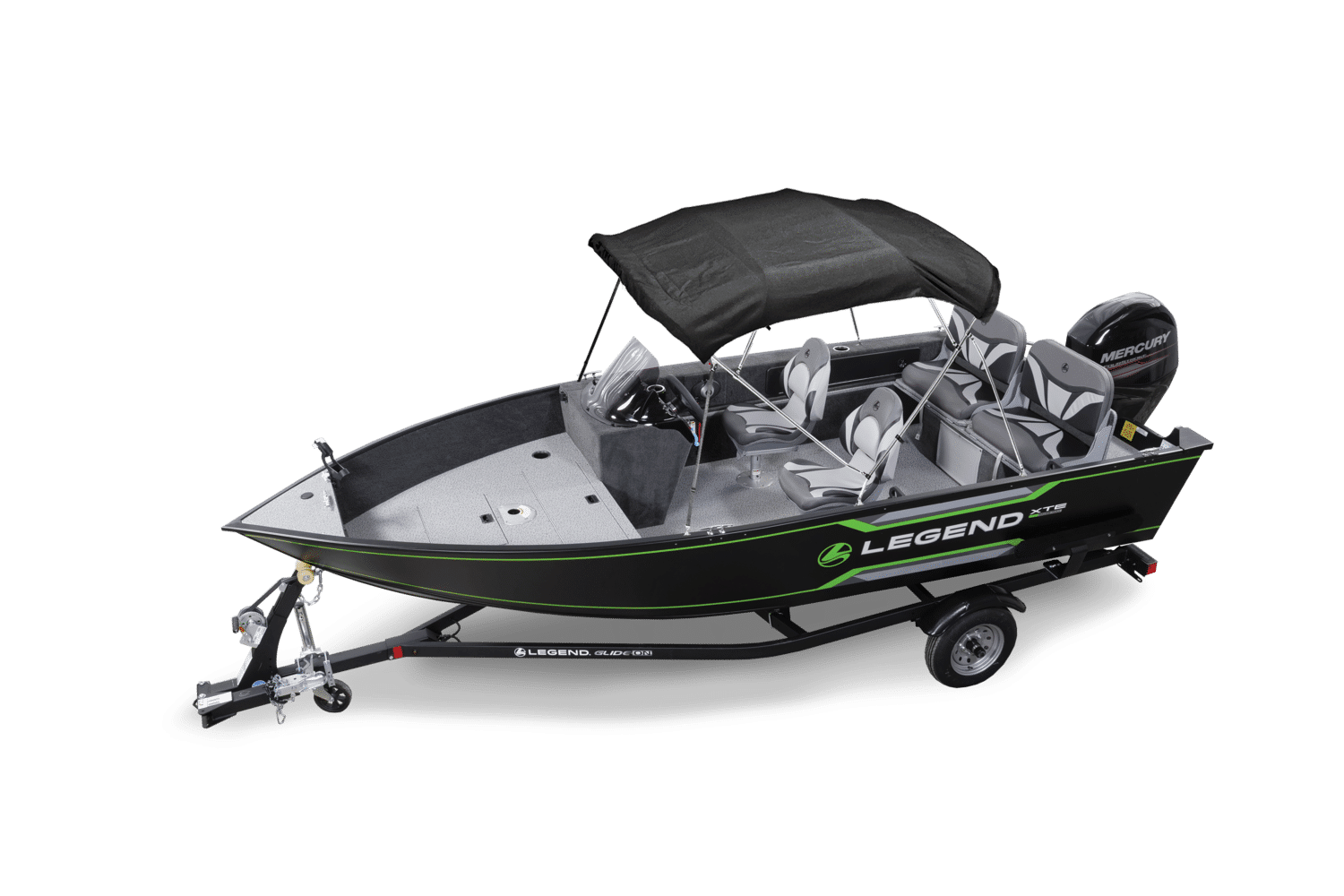 Bimini Top, available for purchase online.
These bad boys serve a dual purpose. Experienced boaters know to never leave shore without this type of boat cover. On a sunny day, they provide some much needed shade. But they become absolutely essential when facing inclement weather.
The Bimini Top on your boat provides the structure upon which you can hang your side and aft curtains, as well as the windshield connector. We'll get into each of these in turn, but your Bimini Top is the frame upon which the rest of your boat's enclosure hangs.
Curtains and Connectors
With your Bimini Top extended, you can close up your four sides with additional curtains and connectors:
The windshield connector closes the gap between your Bimini Top and your windshield, and will usually either be fully transparent or have transparent windows.
Your side curtains close the gap between the Bimini Top and the port and starboard sides of your boat. These are generally fully transparent.
Bow Covers
On boats with an open bow, a bow cover… covers the bow. It's pretty much exactly what it sounds like. Many experienced boaters leave these on even in nice weather, unless they're out on the water with friends who may want to stretch their legs or cast a line from the bow.
Full Top Enclosure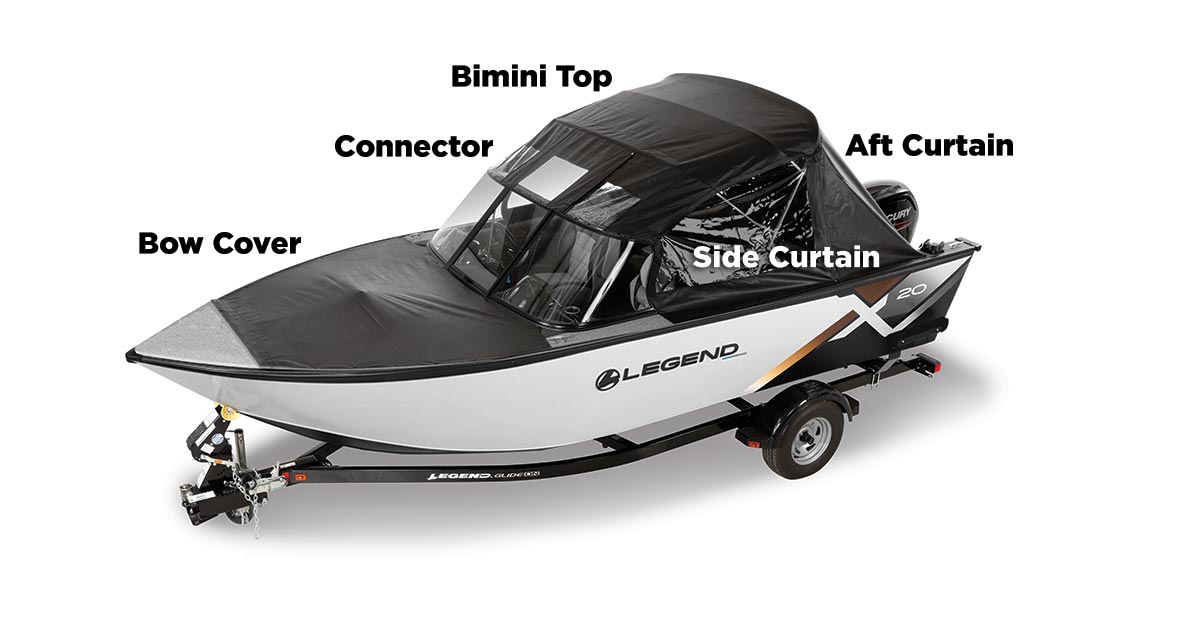 Behold, your fully enclosed boat, ready to face-off against Poseidon, or at least a particular gusty wind.
When you combine all of the types of boat covers that can be used during operation, you get your full enclosure. All together now, your full enclosure is comprised of:
Bimini Top
Side and Aft Curtains
Windshield Connector
Bow Cover
What's especially great about the way your enclosure has multiple pieces is that you can pick and choose the level of protection you need on any given day. Maybe you just need a little protection from the wind while cruising, so you leave your sides and aft open. Or maybe its coming down hard, so you button down and leave just enough room to poke a fishing rod through. It's your choice.
"What type of boat cover should I use in the winter?"
Winters are notoriously hard on every type of boat cover. Canvas, plastic, polyester, even our own specially formulated ProTech fabric… they all have their strengths, but they all bow down before the might of winter.
So to protect the entirely of your investment, including your boat covers, we recommend shrink wrapping your boat during the off-season.
This is a service we provide, and of course winterization involves more than shrink wrap. But if you take steps to protect what's yours, you can expect to enjoy your boat for many decades to come with minimal maintenance costs.
Calculator Icon Vectors by Vecteezy