Many Legend Boaters don't just hit the waters on the weekend, they live the lifestyle deep in the woods for weeks at a time.
Roughing it and connecting with nature is the purpose of this sort of adventure, but there are a few situations where electronic devices would be extremely welcome.
With limited or no access to electricity, what is one supposed to do?
Solar power is the answer.
There are tons of devices on the market right now and plenty of new gadgets on the way. Some aren't really practical for a week-long fishing trip but there are a few that you will wonder how you ever lived without.
Next time you're gearing up, consider packing a few of these handy gadgets.
Solar Generator
The most expensive item in our solar powered gadget lineup is the generator. Although expensive at %260 to $4000+ (depending on what size you want) the solar version is clean and exponentially quieter than it's gas powered counterpart. The Goal Zero Yeti gives you access to 12V, USB, and A/C to power whatever you want to plug in.
Portable Charger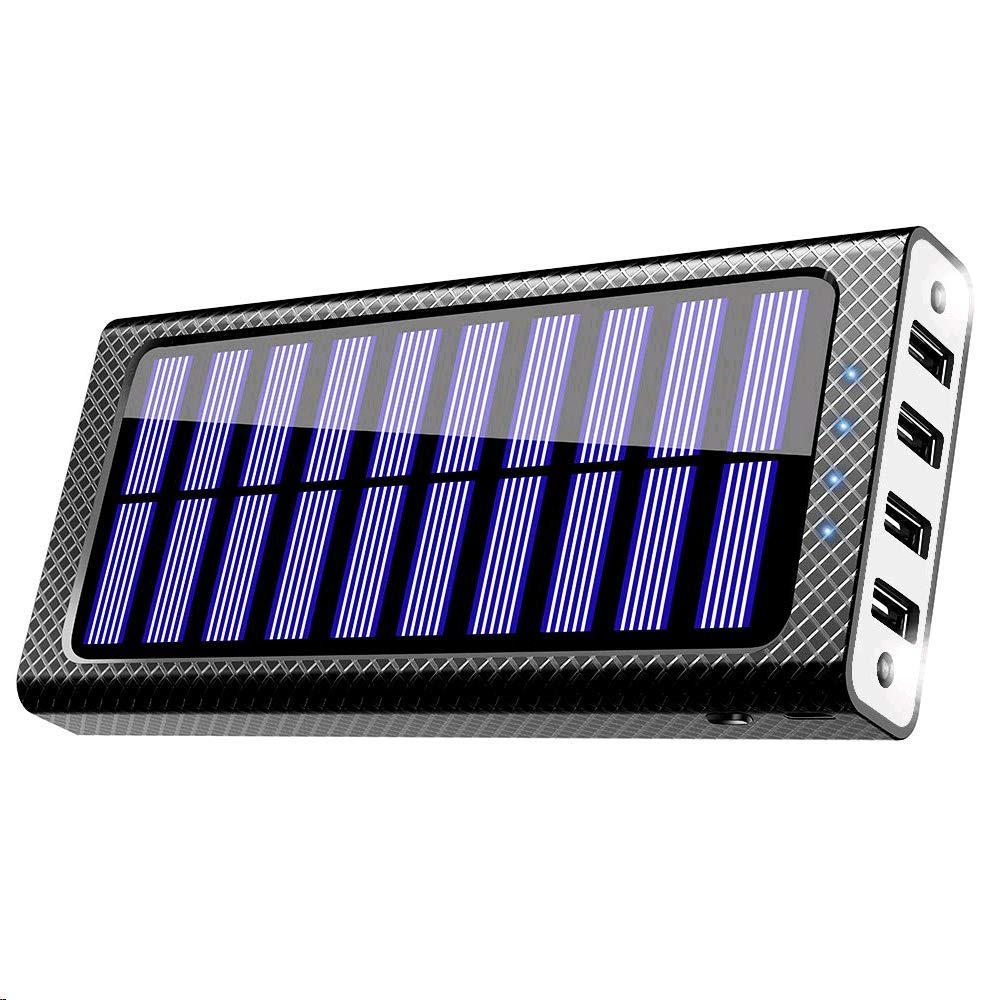 A powerful generator is a wonderful thing but you probably don't want to be lugging it to and from the boat each time you head out to fish or ski. To power your portable gear choose a more compact charger. They come in all shapes and sizes to power your smartphones, tablets, and anything else the requires a USB source.
It's likely that more than one person will have a phone or something else to charge, so check out a few portable charger models that offer more than one USB port.
Lamps & Lights 
If you're camping with children there's no way they're going to sleep when you ask them to. They can't stay up with the adults around the campfire, but you also don't want them tossing and turning around in a dark tent.
Set them up with a hand solar powered light. Over its lifetime this is much more cost effective, less annoying (you don't have to worry about batteries dying at just the wrong time), and come in handy in all sorts of situations from reading a book at night to making your way to the bathroom without tripping.
Radio/Speaker
There's always that guy who packs his acoustic guitar, but throughout a week-long fishing and camping getaway you may want to change the channel.
You can purchase a standalone AM/FM radio to provide the entertainment during throughout the day and night. Or, since you have plenty of power for your phone, you can play your curated playlist through solar powered bluetooth speakers.
Solar Shower
Perhaps the most common reason for rejecting the offer of a weekend spend in the great outdoors is the lack of hot water showers. Now they have no reason to say No.
The solar shower from Coleman provides you with 5 gallons of warm comfort whenever the urge strikes you. You do need about 3 hours for the water to reach ideal temperatures, but it's well worth the wait.
Car Battery Charger
We've been there. The week is over. You're exhausted and it's time to pack up and head home. You turn the key and…. nothing.
You can call for help since your phone is nice and charged thanks to the Portable Charger you brought with you. But who wants to wait?
Keep the ALLPOWERS system attached to your truck's battery and maintain peace of mind as the device maintains your vehicle's power levels. When civilization calls, you'll be ready.
Water 

Purifier
A solar powered car charger may feel like a lifesaver, but a water purifier could literally save your life.
Without getting into the gross specifics, dirty water can make you very sick. With no water at all, you could die within 3-5 days. You'll never have to worry with a portable, solar water purifier. In just 2 hours you can clear your water of 99.999% of all chemicals, viruses, bacteria and protozoa.
Cooler
Let's face it, even the most highly engineered standard cooler on the market will cause your ice to melt eventually. Couple unlimited energy from the sun with refrigerator-like function to keep your food and drinks cool for as long as you like. Sure you're roughing it, but you need to keep your food fresh.
Of course, there are plenty of other solar powered gadgets out there but we should all agree that there should be a limit – for example, you can buy ovens and other cooking tools, but that's what fires are for!
Buying a boat and planning a week-long adventure is meant to help you escape the hustle and bustle of modern living and to reinforce your connection with nature.
But we're willing to make an exception for health and safety, and these solar gadgets do just that.
Yours In Boating,
Calculator Icon Vectors by Vecteezy