Jesse Davis had the pleasure of a one-on-one lesson with master chef Mark Gregorini of Verdicchio Ristorante | Enoteca in Sudbury, Ontario as part of our VIB Boaters Launch event. In the video below Chef Mark teaches us how to cook Fritto Misto di Pesce, a traditional street food of the coastal regions of Italy in particular Le Marche, Lazio, Emilia Romagna and Liguria.  Chef Mark also shares some tips and tricks on how to get even the fussiest eater in the house to enjoy this delicious fish dish.
Mark was kind of enough to share this delicious recipe with all of you at home!
Fritto Misto di Pesce
For this dish, we will need:
Cooking Utensils
1 – high sided pot
1 – slotted spoon
1 – roll of paper towels
1 – baking sheet
Ingredients
6 x cups olive oil
2 x cups canola oil
1 x fillet fresh Manitoulin rainbow trout
1 x calamari (cleaned and bone out)
5 x 13/15 size shrimp (peeled and deveined if possible)
2 x large east coast scallops
1 x fillet northern pike or pickerel
1 x lemon (cut into 6 wedges)
2 x cups semolina
2 x cups flour
Salt | pepper
Italian parsley for garnish
Directions
Step 1
Peel and devein the shrimp keeping the tail on. Rinse in cold water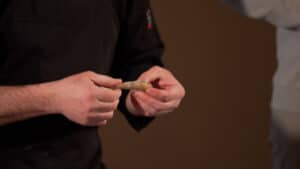 Step 2
Check calamari for the cartilage and if present remove.Remove the longer tentacles and inside core. Rinse in cold water and cut into 1/2 inch rings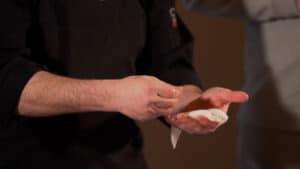 Step 3
Check the fresh water fish for pins. Cut into 1 inch strips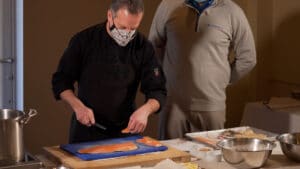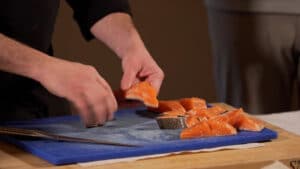 Step 4
In a bowl, combine the flour and semolina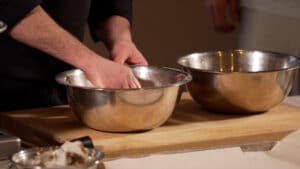 Step 5
Season the fresh water fish with salt and pepper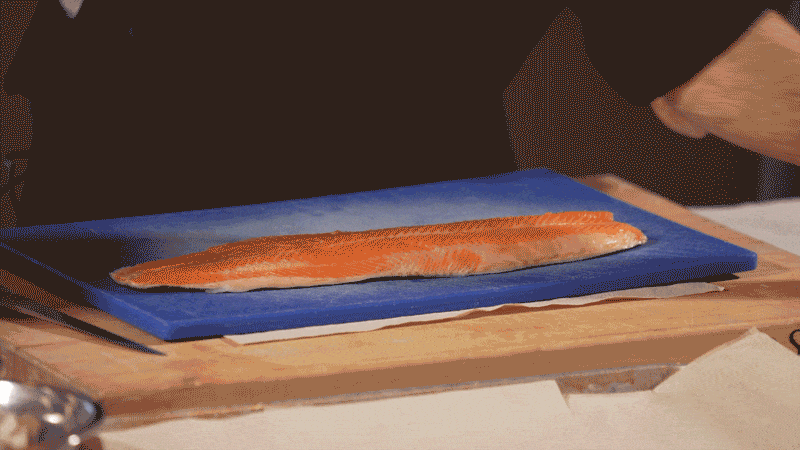 Step 6
Dip the calamari, shrimp and scallops in milk as this will help absorb the fishiness and make it milder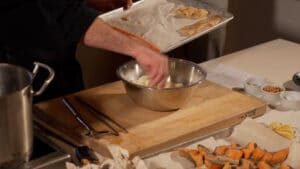 Pro-Tip: Milk will even help take the fishiness out of most stronger tasting fish. This is perfect if you have someone in the family that is a little more sensitive to the strong fish taste.
Step 7
Dredge in flour mixture and shake off any excess.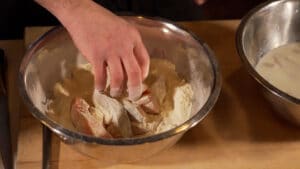 Fry in the hot oil until golden brown and crispy – app. 3mim. Work in batches to keep the oil temperature steady.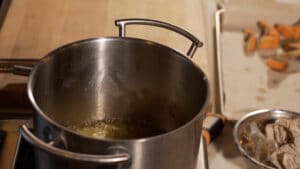 When the fish is ready, transfer to a paper towel lined baking sheet with a slotted spoon.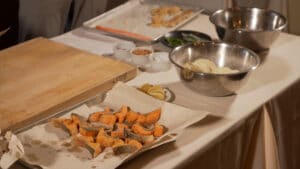 Salt immediately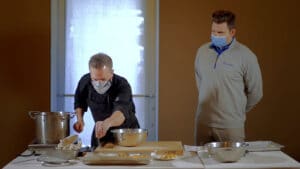 Step 8
Plate and garnish with lemon wedges and fresh parsley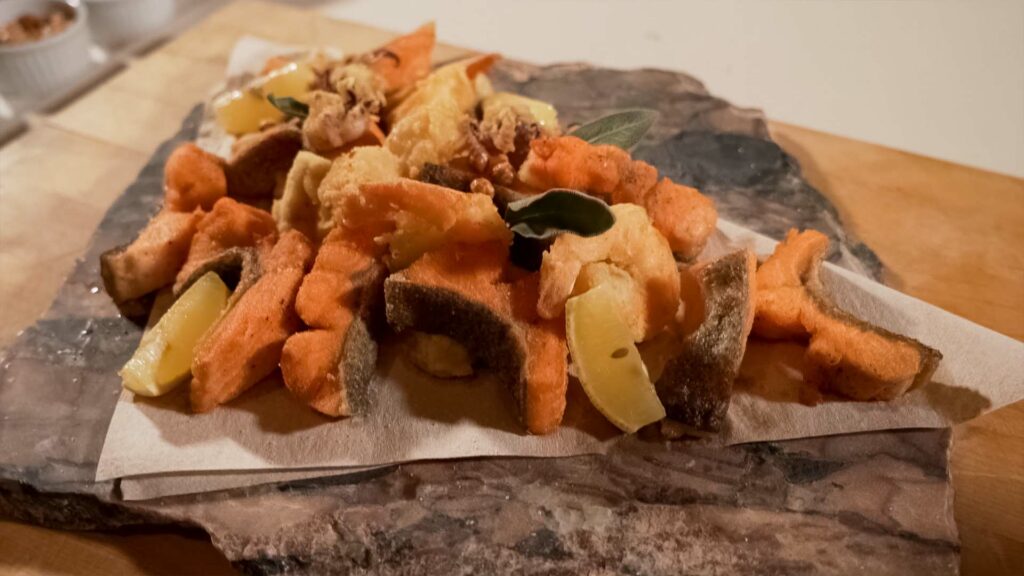 If you would like to watch more from the VIB Boaters Launch event you can visit Legend's YouTube page.
Plain Text Recipe
For this dish, we will need:
1 high sided pot
1 slotted spoon
1 roll of paper towels
1 baking sheet
6 x cups olive oil
2 x cups canola oil
1 x fillet fresh Manitoulin rainbow trout
1 x calamari (cleaned and bone out)
5 x 13/15 size shrimp (peeled and deveined if possible)
2 x large east coast scallops
1 x fillet northern pike or pickerel
1 x lemon (cut into 6 wedges)
2 x cups semolina
2 x cups flour
Salt | pepper
Italian parsley for garnish
Directives
1. Peel and devein the shrimp keeping the tail on. Rinse in cold water
2. Check calamari for the cartilage and if present remove.Remove the longer tentacles and inside core. Rinse in cold water and cut into 1/2 inch rings
3. Check the fresh water fish for pins. Cut into 1 inch strips
4. In a bowl, combine the flour and semolina
5. Season the fresh water fish with salt and pepper
6. Dip the calamari, shrimp and scallops in milk as this will help absorb the fishiness and make it milder
7. Dredge in flour mixture and shake off any excess. Fry in the hot oil until golden brown and crispy – app. 3mim. Work in batches to keep the oil temperature steady. When the fish is ready, transfer to a paper towel lined baking sheet with a slotted spoon. Salt immediately
8. Plate and garnish with lemon wedges and fresh parsley
Calculator Icon Vectors by Vecteezy