Legend Boats is proud to stand up against bullying. This Pink Shirt Day we ask you to join us in celebrating diversity and inclusion. It is our differences that make us stronger.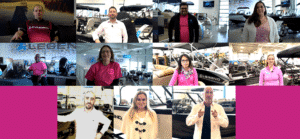 Bullying is never OK, whether it's at school, in the office, or on the water. 
One of our core values at Legend states that we treat one another with respect and communicate openly. We have team members from all walks of life, all cultural backgrounds, all political leanings. Diversity fosters creativity and innovation. It's one of our greatest strengths.
Legend Boats is a family business with over 150 employees across Canada. We believe in kindness, compassion and dialogue. It is important that victims of bullying know they are not alone. Wearing a pink shirt on this day sends a strong message to them that others care.
It takes one person to speak up and together we can make a change. So whether it's in our organization or out on the water, be kind, inclusive and supportive.
Start making a difference today. Your actions can change a life. The boating community has a reputation for helping each other out. Legend Boats is proud to foster an atmosphere where everyone's voice and our differences are an asset and important.
Calculator Icon Vectors by Vecteezy