There's been huge developments in the world of Pontoon Boats over the past few years, so you'll be forgiven if you still picture your grand-dads pontoon, but you couldn't be more wrong.
With dozen's of unique layouts to choose from, today's pontoons are much more luxurious, exciting, and versatile.
But layouts are just the beginning! Choose a Legend Boats pontoon and open your eyes to features like;
Live wells
Changing station
Performance Pontoon Tubes (2 or 3) complete with lifting strakes
Deluxe seating
Fishing station
Oversized boarding ladders
Built in GPS
Fishing decks
Chaise lounges  
EZ-Clean vinyl flooring
Ambiant lighting
Built In coolers
Removable windshields
But, those are just a few of the standard and optional features that come with your Legend Boats pontoon. There's really so much more you can get, and so much more you can do.
Here Are 2019's
Most Popular Pontoon Accessories:
Helix 7CHIRP SI GPS G2:
Today's pontoons double perfectly as fishing machines. With all that space it's easy to find an ideal spot for your super-clear fisher finder. Humminbird is stepping up their game with a massive 7" ultra-wide display with built in features like;
- CHIRP Side Imaging
- CHIRP Down Imaging
- CHIRP Digital Sonar
- SwitchFire and DualBeam PLUS
- AutoChartⓇLive
- Humminbird Basemap cartography
GoPro HERO7: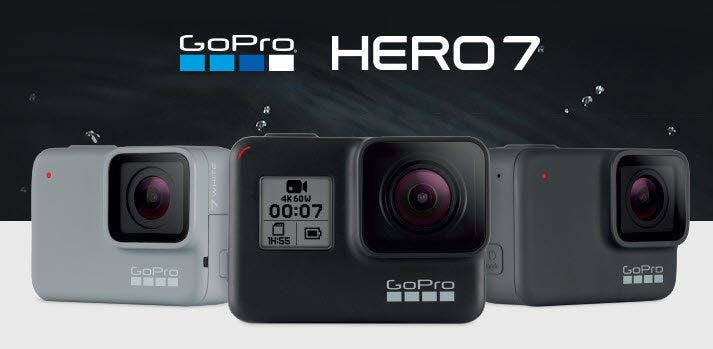 With so many options on a pontoon, you're bound to be creating moments that you'll want to capture and share. To make it easy, mount a waterproof camera that's always ready for action.
- Waterproof down to 10m
- Amazingly stable
- Stream to social
- Voice control
Jensen 12VDC 8" Amplified Subwoofer
Every minute on a Legend Boats pontoon is a party, but to really get your guests shaking, you may want to consider adding some bass to your beats. Add massive music quality with minimal space with Jensen's plug and play bass box.
- Built-in amplification
- Mate-in-lock connectors for easy installation
- Adjustable gain and crossover
- Overall dimensions 13.6" x 10.4" x 2.9"
ESP/Watt Mobile Solar Panels
If you're going to be indulging in accessories, a little extra power is never a bad thing. Since you'll be under the sun as often as possible, mounting a flexible solar panel to your cover seems like a natural fit. Get the kit which includes;
- Solar panel(s)
- Charge controller
- Deep cycle batteries
- Inverter
- Automatic transfer switch
Arnall's Pontoon Grill Bracket Set
Since you're going to have the ability to do a lot of angling, you're probably going to want to cook what you catch - or you could always pack a few burgers for your family outing. Whatever your gourmet plans are, do it in style and save space while you do it with a rail-mount BBQ.
- Drip tray
- Marine stainless steal mounts
SearocK Baby Seat
A 5-point harness connects safely and securely to the ribs of your bimini top, allowing your little ones to thoroughly enjoy their time on the water. This is a newer company, but we checked and they DO ship North of the border. Get yours today our fellow Canadians!
- Heat resistant
- Marine grade cushion
- Made in America with care
Pontoon It! Pedestal Fire Pit
Take your ambience to the next level with a cozy onboard fire pit. Warm up those cool days and stay on the water well into the night with all the warmth you'll need. Don't worry, there's a handy little cover.  You can still use your table as a table.
AquaGlide Inflatable water slide
Whenever there's water around, the kids are going to want to go swimming. Step up the excitement by transforming your pontoon into a mobile water park.
- Includes a 12V inflator/deflator
- Inset molded steps for easy climbing
- Inflated Dimensions: 3' x 9'9" x 8'
A Legend Boats pontoon is already extremely versatile, but with the addition of a few accessories you can completely transform your experience. Feel free to take advantage of our "out-of-the-box" features and spend your days and weekends fishing, tubing or water skiing, or just lounging. But we urge you to get inspired and create events that will result in memories that will last a lifetime for you, your friends, and your family.
Yours In Boating,